We're very excited to freely-release a new suite of climate change predictions direct from the European Union (EU) Crescendo research project! Crescendo is the EU's flagship, multinational initiative to advance the most complex numerical models of the Earth and climate system and then to run simulations of future conditions – in order to inform the forthcoming U.N. Intergovernmental Panel on Climate Change's Sixth Assessment Report.  It is these U.N. reports that inform political and scientific climate change decisions to prepare for and mitigate future climate change as a result of  continuing man-made adjustments to Earth's atmosphere and other elements of the Earth system.
International collaboration
Crescendo, led by Professor Colin Jones at the United Kingdom's National Centre for Atmospheric Science involves co-ordinated numerical experiments using seven cutting-edge computer models of the climate and Earth system developed at world-leading modelling / research centres. These include:
| Model Name | Lead Country | Partners |
| --- | --- | --- |
| | | MOHC, NOC, UNEXE, UEA, UNIVLEEDS/NCAS, READING, FMI |
| | | |
| | | ENEA, FMI, CNR, KNMI, ULUND |
| | | |
| | | |
| | | |
Earth system computer models are different from 'general' climate models in that they incorporate process equations that can simulate ice, vegetation, and chemical systems — in addition to 'standard' atmospheric and ocean physics. Earth system models are at the cutting edge of scientific computation due to their complexity in attempting to simulate so many aspects of the real world. If you are interested in how computer models are run, check out the below primer from IPSL, France – one of Crescendo's participating modelling centres: 
Climate projections from all seven Crescendo models can now be explored on EarthSystemData's web pages and within our brand-new ESD Research app. You can explore global temperature and rainfall data as the models simulate conditions to the year 2100 — under differing levels of greenhouse gas emissions.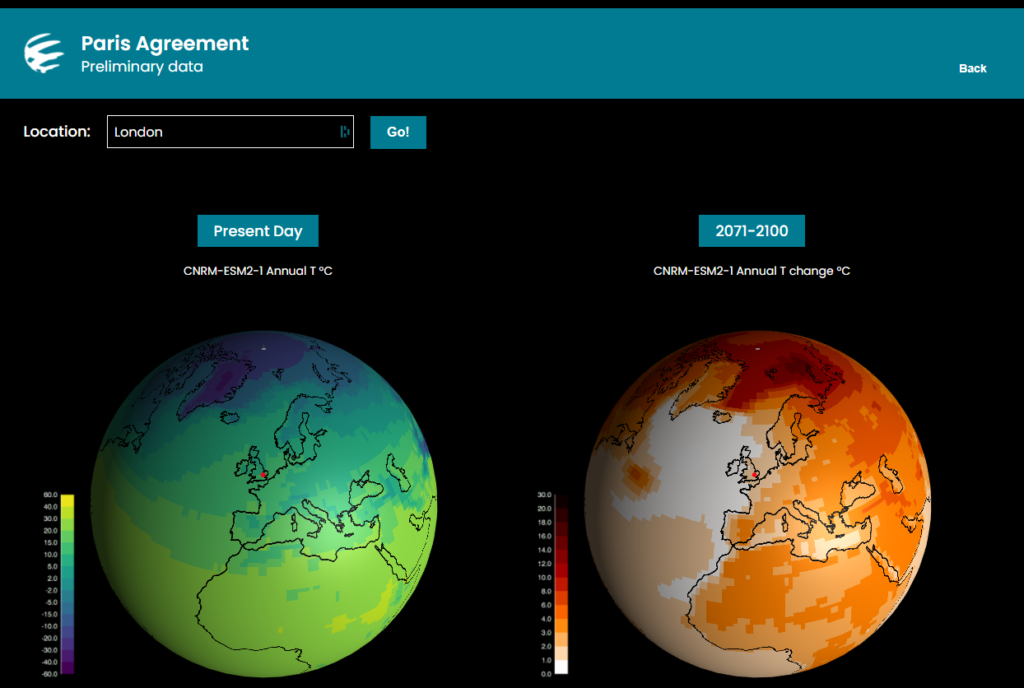 Results from the Paris Agreement experiments represent climate projections under future greenhouse gas emissions which aim to keep global mean temperature changes below 2°C, compared to pre-industrial levels — as agreed in the 2016 UNFCCC Paris meeting agreement.
Results from the moderate greenhouse gas emissions experiments (technical name SSP2-4.5) show possible climate futures where moderate efforts are made to curb greenhouse gas emissions, but enough pollution occurs to warm the planet over the threshold. 
One thing to examine in all of the projections is the profound regional differences in warming and rainfall change. Although the global mean change might sound small, sensitive parts of the planet change much more severely – impacting human and natural life.

Explore the Crescendo data now:
Check out the data for your selves and begin to explore possible climate futures. You can access the data here on the web pages, or you can download our Apple app (free, no ads, simply direct content). Android version to follow shortly!