ESD are excited to launch ESD_Research — a free Apple and Android app helping world-leading research projects disseminate and visualise their research output.
Launched today, the app contains it's first data set — made possible via support and collaboration with the UK's Tyndall Centre for Climate Change Research. The data are new simulations of Earth's future climate using the most advanced mathematical models as part of the EU flagship Crescendo Project. Crescendo is the EU initiative to advance the most complex numerical models of the Earth and climate system and then to run simulations of future conditions – in order to inform the forthcoming U.N. Intergovernmental Panel on Climate Change's Sixth Assessment Report.  It is these U.N. reports that inform political and scientific climate change decisions to prepare for and mitigate future climate change as a result of  continuing man-made adjustments to Earth's atmosphere and other elements of the Earth system.
International collaboration
The first reserach output to be included in ESD_Research are output from Crescendo, led by Professor Colin Jones at the United Kingdom's National Centre for Atmospheric Science . The Crescendo Project involves co-ordinated numerical experiments using seven cutting-edge computer models of the climate and Earth system developed at world-leading modelling / research centres. These include:
| Model Name | Lead Country | Partners |
| --- | --- | --- |
| | | MOHC, NOC, UNEXE, UEA, UNIVLEEDS/NCAS, READING, FMI |
| | | |
| | | ENEA, FMI, CNR, KNMI, ULUND |
| | | |
| | | |
| | | |
Earth system computer models are different from 'general' climate models in that they incorporate process equations that can simulate ice, vegetation, and chemical systems — in addition to 'standard' atmospheric and ocean physics. Earth system models are at the cutting edge of scientific computation due to their complexity in attempting to simulate so many aspects of the real world. If you are interested in how computer models are run, check out the below primer from IPSL, France – one of Crescendo's participating modelling centres: 
Climate projections from all seven Crescendo models can be explored on EarthSystemData's web pages and within our brand-new ESD Research app. You can explore global temperature and rainfall data as the models simulate conditions to the year 2100 — under differing levels of greenhouse gas emissions.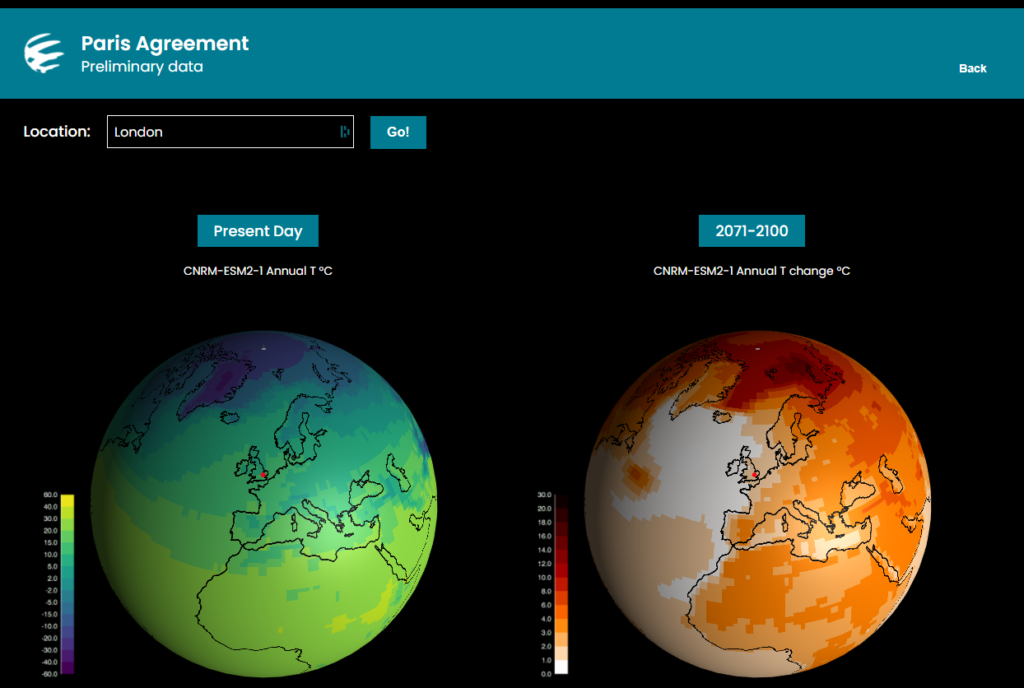 Results from the Paris Agreement experiments represent climate projections under future greenhouse gas emissions which aim to keep global mean temperature changes below 2°C, compared to pre-industrial levels — as agreed in the 2016 UNFCCC Paris meeting agreement.
Results from the moderate greenhouse gas emissions experiments (technical name SSP2-4.5) show possible climate futures where moderate efforts are made to curb greenhouse gas emissions, but enough pollution occurs to warm the planet over the threshold. 
The ESD Research app and web-access pages, allow you to search for any global city or town and explore change levels in rain and temperature for each Crescendo simulation of the future. One thing to examine in all of the projections is the big regional differences in warming and rainfall change.
Although the future global mean change of the planet might sound small, sensitive parts of the planet, especially in the high latitudes (eg the Arctic and sub-Arctic), will change at rates much faster than the planet average. This is because high-latitude regions are seeing surface property changes as frozen water thaws – both over land and ocean, which leads to strong radiative changes in the energy balance in those locations.
So, check out the big difference in how much well-known cities are predicted to warm – compared to a really northern town, Dikson, which is on Russia's Arctic coast:
| City warming | Low pollution | Moderate pollution |
| --- | --- | --- |
| | | |
| | | |
| | | |
| | | |
| | | |
| | | |
| | | |
Simulated warming (annual average) by 2071-2100 under low and moderate levels of greenhouse gas emissions
Most of the well-known cities warm by approximately the same as the planet-average-warming by the end of the century – both in the low pollution and the moderate pollution scenarios. The warming in the Arctic can be double or more the planet average. This rate of change poses serious adaptation risks to humans and wildlife. 

Explore the Crescendo data now:
Check out the data for your selves and begin to explore possible climate futures. You can access the data here on the web pages, or you can download our Apple app (free, no ads, simply direct content). Android version to follow shortly!