ESD launches a new digital service to provide automatic, tailored seasonal weather forecast information for water companies.
Co-developed with water resource planners from one of the the United Kingdom's largest water companies, Anglian Water, ESD is proud to announce the launch of its Seasonal Forecaster! This a new service that converts raw data form world-leading seasonal weather predictions into easily-accessible, tailor-made hydro-meteorological information to aid water companies form their planning and management decisions out to six months ahead.
Six month's range: world's best forecasting systems.
Utilising raw information from up to six of the world's most advanced seasonal-forecasting systems the ESD Seasonal Forecaster automatically processes latest seasonal-forecast data user-specified  temperature, rainfall, evaporation and any other indices required and delivers these as gridded or user-defined spatial area means (e.g. catchment areas) providing 'ready-to-go' forecast data. These data can then integrate seamlessly with our client's in-house planning and forecasting work.
Incorporated forecasting systems: UKMO [United Kingdom]; DWD [Germany]; JMA [Japan]; Météo France [France];  ECMWF [Europe]; NCEP [United States].
The Seasonal Forecaster can provide a maximum forecast range of six months using world-leading forecast systems.
User-specified temperature, rainfall and evaporation data to match exact needs.
Based on world-leading national numerical forecast data, the ESD Seasonal Forecaster guarantees users have the most scientifically-robust forecast information available, initialised each month with new forecasts, and delivered automatically and directly to clients to easily aid planning decisions for the coming months. Each weather variable output from the forecaster is defined per user need — together with the geographical coverage and time resolution of output data. Resulting files and summary information are fully formatted as needed per client.

"We had a great opportunity to develop the product in tandem with active water resource planners. We wanted the service to be a flexible as possible – allowing full user definition over the weather and hydrology parameters that the Forecaster produces. Ultimately we want it to solve barriers, pain points, or time constraints that stop water companies from getting maximum value from the breadth of seasonal weather prediction data that is available." -said Dr. Craig Wallace, ESD Lead Scientist and co-developer of the product.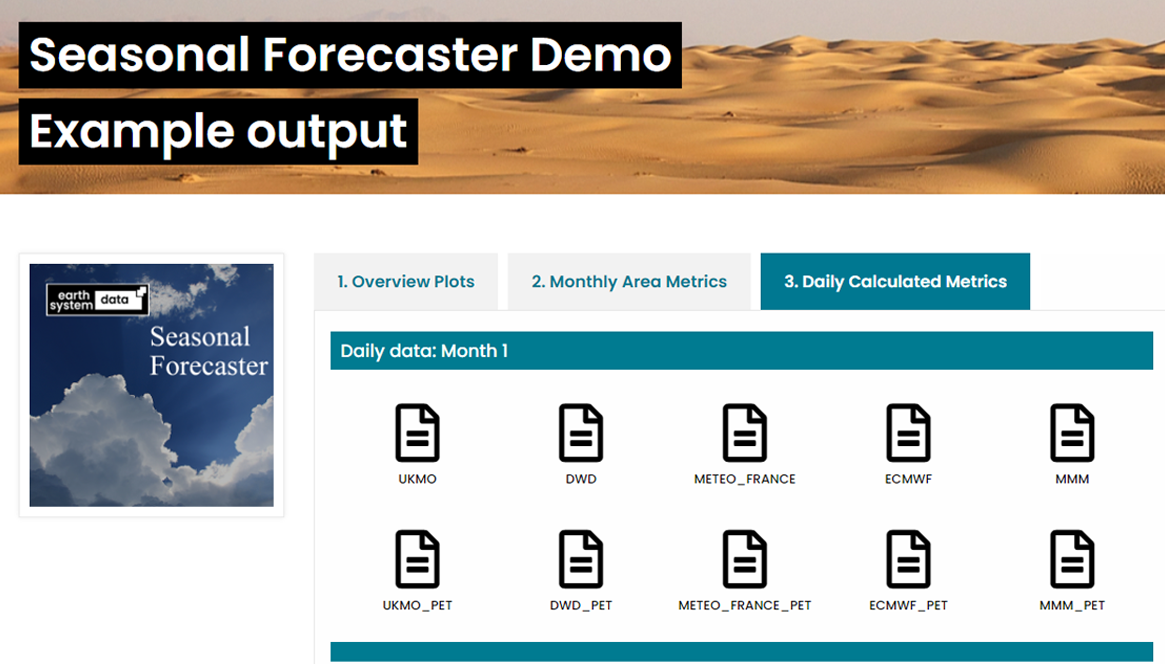 Seasonal Forecaster users can specify exact weather / hydrology indices needed for their planning work delivered in gridded and user-specified area means.
Helping water company professionals now. 
The Seasonal Forecaster service is already assisting water company professionals in the United Kingdom providing automated monthly output direct to team members. The Seasonal Forecaster is available now to help water companies in all countries with their seasonal-scale planning and forecast obligations.
"Monthly output from the Seasonal Forecaster is now incorporated into Anglian Water's water resource situation report, where the seasonal forecast can be combined with current water resource situation to determine the likelihood of short-term water shortages" – Anglian Water, UK
Ready for global deployment. Rapid client set up.
The Seasonal Forecaster can be configured to provide output for anywhere in the globe, using the same scientifically-leading forecast data. 
Contact us now to join and ensure you have the world's most advanced seasonal predictions available to protect your company and resources against adverse weather conditions in the coming months. 
Our scientists will work with you to configure the system to your precise needs and bring you online asap.
This is a premium business-to-business service and our pricing options can scale to match the required output from the Seasonal Forecaster and we can provide subscription terms to match your spending cycles. We're ready to help now.
Let's start.
Join other professionals using ESD Seasonal Forecaster data and help protect against weather impacts in the coming months. Email us with your company name, and we will schedule an initial call.